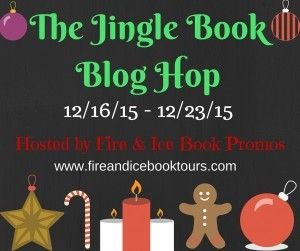 Welcome to the Fire and Ice Promotions Jingle Book Blog Hop!
Hi, and thanks for stopping by! I'm Deanna Dee, romance author and all-around geek. For this hop, we're sharing things that get us in the Christmas spirit. Music always does it for me. So I've combined romance and geek to bring you two videos that will hopefully get your Christmas going strong.
Share the hop with hashtag #JingleBookBlogHop.
My Christmas short, The First For Noelle, is 99c on Amazon or free with KU.
My Giveaway
Tis the season for giving! One lucky winner will receive ecopies of my three books: Critical Hit-On, One Fling to Rule Them All, and Finish Him. To enter, leave a comment with your favorite Christmas song, your email, and your preferred ebook format. One lucky winner will receive an email with goodies on Christmas Eve! (open internationally)
Hop Grand Prize:
Two $25 Amazon Gift Cards!
Open worldwide
a Rafflecopter giveaway
~Okay, I'm about done. So keep hopping, and thanks again for stopping in!
~~~
Geek on,
Deanna